Welcome Lauren Ann Marie...
Well...it has been A LONG time since my last post. But - I have a good excuse...there is a little someone who has been keeping me busy! On Tuesday July 19, 2005 at 12:55am, Tim and I were blessed with our daughter, Lauren Ann Marie.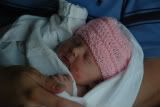 She arrived by caesarean section and weighted 8lbs 14.7oz. She is absolutely beautiful and was the sushine in our lives the moment she arrived. I went into the hospital Monday morning at 8am for an induction. After 14hours of non-progressive labour, my obstetrician finally decided to schedule a c-section for 12:30am. I had an epidural around 7pm - which was a breeze! My contractions were not terrible - but I was having back labour which was quite uncomfortable...my OB recommended having the epidural seeing as they weren't going to decide until 10:30 that night. So, at 12:15 am they wheeled me into the OR with Tim at my side...The operation went great...When Lauren was delivered, Tim and I were ecstatic...a baby girl! She was beautiful...the biggest cheeks I'd ever seen and the most perfect rosebud lips...super kissable! We stayed in the hopsital until Friday but were readmitted the next day as Lauren had developed jaundice. She is such a great baby - hardly ever cries...unless she is starving. She is so strong and can hold her head up on her own. She is just a month old now and I can't even believe how much I love her....I guess this will be my last post as this was only a pregnancy journal...maybe I will start a LAUREN journal. Keep an eye out!